DC Prime Batman Action Figure
DC Prime Batman Action Figure
Overview
For the first release from the DC Prime line, the team could think of no better hero than the Dark Knight himself -- Batman. This massive 9" collectible was carefully designed to be the ultimate Batman action figure. With over 23 different points of articulation, multiple pairs of hands, a wired fabric cape and three unique heads, there are thousands of unique Dark Knight moments just waiting to be created. For those fans looking for the best-in-class Batman collectibles, your action figure has arrived.
Reviews
Customer Reviews
01/03/2020
Anonymous
Canada
I recommend this product
Amazing First for DC Prime Series
The design and paint work on this figure is unparalleled and the stunning cape (which is black with a purple inner lining like the rebirth costume not seen in these images) is definitely a highlight. It definitely does take time to get used to the articulation points, and at first they can come off as stiff but once you work with the articulation for a bit it becomes easier to pose and the stand is flexible for a variety of stances. Accessories and the additional heads are a nice touch, though it was a little difficult to switch out the hands at first but that's a given considering that the hands need to be tightly secured so they don't fall off easily. Just takes a bit of force to get them off and on. My only concern was with the grappling hook, which did not properly fit any of the hands provided and was a but confusing at first. I ended up forcing the smaller end of the foldable grapple gun into one of the batarang holding hands until the plastic hand expanded a bit and allowed for the grapple gun to be held properly. Nice easter egg not mentioned though is that the foldable grapple gun is magnetic and can be placed on the back of the utility belt under the cape when not in use.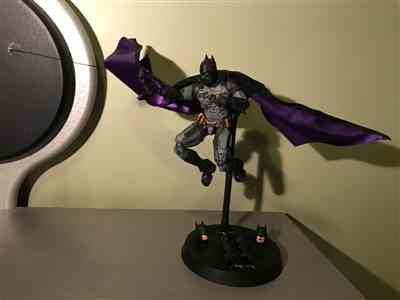 12/08/2019
Victor B.
United States
I recommend this product
Do not buy Get a mezco one:12
I was extremely excited to get this figure when it was announced earlier this year. I just got mine today and when I tried to swap out heads the peg completely popped off. And may I mention this a common issue with other people who have reviewed this figure. Imagine being a collector and eager to have your new figure on display just to have it break on you there's no instructions manual on how to avoid this situation Quality control really dropped the ball on this one and needs right their wrong....
OC
11/28/2019
orlando c.
United States
I recommend this product
It Looks Great But!
This Product is very visual and Impressive Looking but it needs work in the Realistic Positional area meaning the arms and legs cannot be positioned in actual combat stances or attack postures. Any attempt to do so could damage the product.But It is very well made I just wish it could be flexible enough to Properly Pose the Action Figure. If you want this for A Visual Display it's Great.